Valencia Theater Seating
We here at Valencia Theater Seats focus on, high-quality mechanisms, ergonomic design and customized finishes, combining them in a chair that excels in every front. Enhance the quality of your Home Theater and be prepared to enter a whole new dimension of Luxury and Entertainment.
Come visit our showroom, and enjoy the Valencia experience first-hand.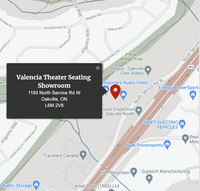 Theater Seating  - Demo Room Location and hours: 1193 North Service Rd West, Unit C7 Oakville, Ontario L6M 2V8
Lifestyle - Demo Room Location and hours: 945 Syscon Rd Burlington, ON L7L 5S3
Hours of Operation:
Monday to Friday 9:30AM to 6:00PM
Saturday 11:00AM to 5:00PM (Only Theater Seating Demo)
Located in beautiful Oakville, we look forward to welcoming you to our state-of-the-art showroom. With various seating options set in a premium home-theater setting, you can experience our premium seating offerings in a theater environment first-hand!
Our best-selling models like the Tuscany, Oslo, Zurich and the Tuscany Console are on-site along with various open-box specials.
Our Cinema Series models such as Piacenza, Verona and Syracuse are also available on display.