Swipe Up for more options
Harper Woven Cane Dining Chair
Vendor

Valencia Theater Seating

Regular price

Original Price

$789.99

Sale price

Pre

Order

$399.99
Quantity must be 1 or more
Harper Woven Cane Dining Chair
Versatile Aesthetic Appeal: Effortlessly fitting into various decor styles, from modern to rustic, the chair is both practical and artistically versatile.
Sustainable Material Selection: The chair's use of renewable cane and nettlewood underscores an eco-friendly, stylish choice, ideal for environmentally conscious consumers.
Durable and Timeless: High-quality materials and craftsmanship ensure lasting stability and enduring appeal, making it a smart, long-term furniture investment.
Ergonomic Back Support: Features a gently curved, cane-inlaid back offering excellent support, ideal for extended seating at meals or work.
Availability: - Pre Order: $399.99
*Secure your order with just a 15% deposit, which is fully refundable within 30 days.
*Please be aware that the expected arrival time is only applicable to the pre-order you place today. Please note ETA dates will change as shipments are sold.
*This is a Pre-Order Product:Discounted Price will End When the Product is in Stock
Features
The Libby dining chair elegantly combines varying materials, revitalizing a classic design with a modern touch. Crafted from solid nettle wood, its frame boasts clean lines and sharp angles. A distinctively textured cane inlay graces the gently curved back, adding an organic feel. For added comfort, it features a slender, easily detachable cushion upholstered in a resilient fabric, maintaining a sleek and sophisticated look. This blend of natural textures and durable materials makes the chair a versatile and stylish choice for any contemporary dining setting.
Natural Cane Back Inlay

A standout feature is the intricately woven cane inlay, gracefully set into the chair's gently arched back. This natural element infuses a warm, organic aesthetic, beautifully contrasting with the chair's more structured frame.

Stylish Cushioning

The chair is fitted with a slender, removable cushion, upholstered in a high-quality fabric. This cushion not only enhances comfort but also elevates the chair's overall design, blending functionality with a clean, minimalist appeal.

Contemporary Design

Balancing traditional craftsmanship with a contemporary look, the Libby dining chair is an excellent choice for a range of interior styles. Its blend of materials and textures offers a fresh, sophisticated take on classic dining room furniture.

Solid Wood Frame

Each piece of wood is carefully selected and expertly crafted by skilled artisans, ensuring the utmost attention to detail and craftsmanship.

Simple Assembly

Experience the convenience of our user-friendly assembly process, facilitated by clear and concise instructions. With our straightforward instructions, you can quickly and effortlessly assemble your furniture.
Dimensions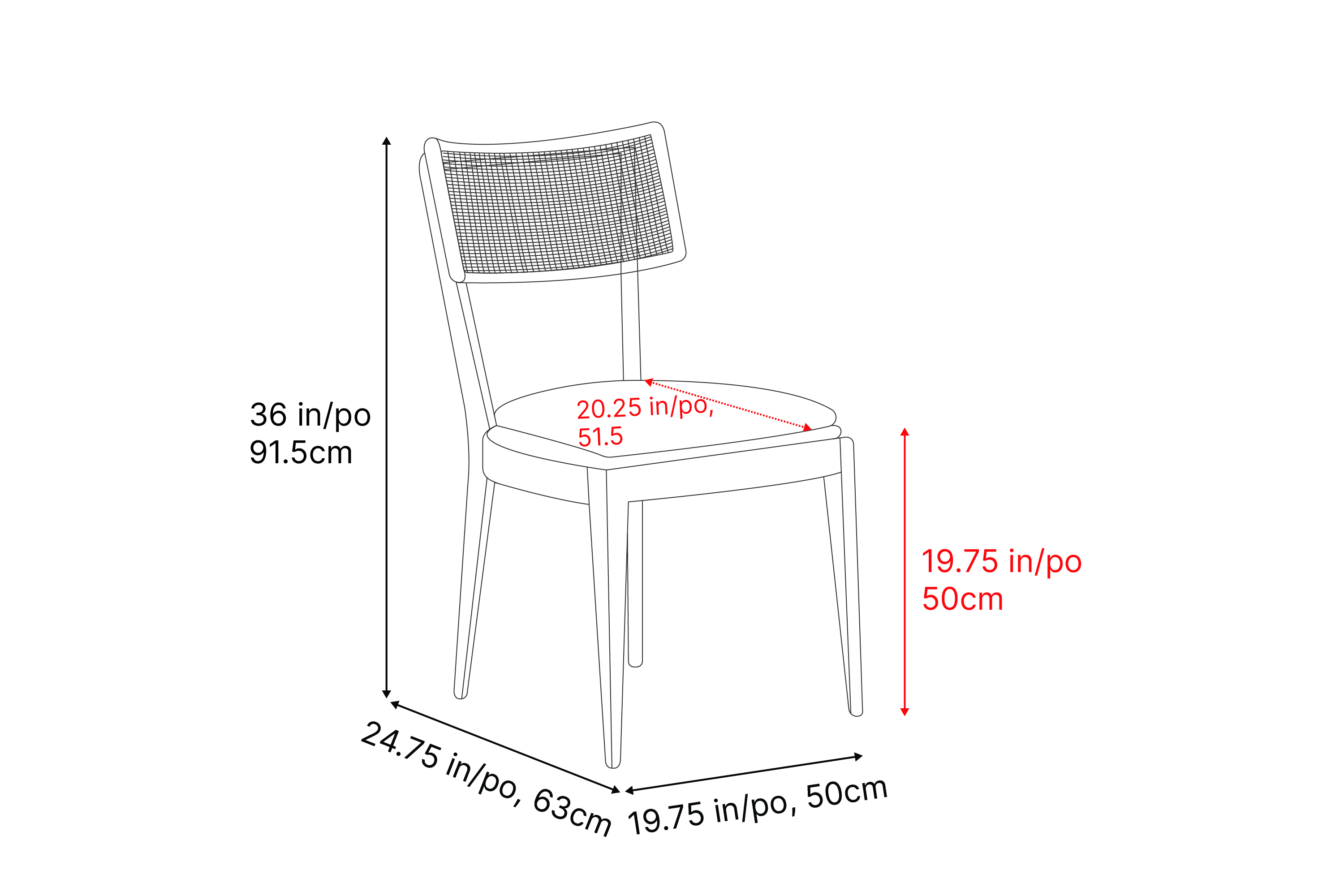 | | | | |
| --- | --- | --- | --- |
| | Height | Width | Depth |
| Overall | 36" | 19.75" | 24.75" |
| Seating | 19.75" | 19.75" | 20.25" |
| Back | 8.75" | | |
Specifications
| | |
| --- | --- |
| Frame Material | Kiln Dried Wood |
| Back Material | Woven Cane |
| Seat Cushion Fill | Polyfoam |
| Product Weight Capacity | 300 lb  |
| Electric Motion | None |
| Assembly Required? | Tool-Free Assembly |
| Assemble Instruction | A detailed instruction manual is included with the package. |
| Manufacturer Warranty | 1-Year Prorated Warranty |